Commentary
Big East trio finds way to Big Easy
Originally Published:
April 2, 2013
By
Kate Fagan
| espnW
The right side of the Women's Final Four bracket looks just like you'd expect it to. But if you shift your glance to the other side, you see one of the most unexpected matchups in recent memory.
That left side of the bracket -- the Oklahoma City and Spokane regionals -- produced two teams that very few people predicted would make it to New Orleans: No. 5 seed Louisville and No. 2 seed California, which play the first game on Sunday (ESPN, 6:30 p.m. ET). Obviously, a big part of the surprise is the absence of the overall top seed, the Baylor Lady Bears, eliminated in the regional semifinals by Louisville, in a game many people consider the greatest upset in NCAA women's tournament history.
THEY MEET AGAIN
UConn and Notre Dame meet, for the fourth time this season, in Sunday's national semifinals. The Irish have won four straight in the series, dating back to the 2012 Final Four. Here's how the teams stack up in their past eight meetings:
| | | |
| --- | --- | --- |
| Wins | 1 | 7 |
| PPG | 68.1 | 73.1 |
| Road/Neutral Wins | 1 | 5 |
A look at the three meetings this season between UConn and Notre Dame:
• Jan. 5: Irish 73, Huskies 72
• March 4: Irish 96, Huskies 87 3OT
• March 12: Irish 61, Huskies 59
ESPN3 replays: March 4 | March 12
• Complete ESPN family of networks Final Four on-air schedule
Of course, the right side of the bracket looks like business as usual: Top seeds Connecticut and Notre Dame will be playing in the national semifinals on Sunday night (ESPN, 8:30 p.m. ET) for the third consecutive season. And there's also a distinct possibility that the finals could be an all-Big East affair, considering the league has every team in the Final Four except for the Pac-12's California.
The ousting of Baylor has sent shockwaves throughout the tournament, blowing open the doors of opportunity -- it now really feels like anyone's title for the taking. Consider that of the thousands of brackets filled out in the Women's Tournament Challenge, 57.1 percent had the Lady Bears winning it all, and you begin to realize how much of an overwhelming favorite Baylor was.
So first, let's focus on the game that many feel will determine the eventual champion: UConn versus Notre Dame. This is the game that everyone has been pointing toward since the brackets were revealed nearly three weeks ago. The Huskies are making their sixth consecutive Final Four appearance, an NCAA record for any program, men's or women's. Meanwhile, the Fighting Irish are making their third consecutive appearance, and they'll face the Huskies for the third consecutive time in the Final Four. Notre Dame eliminated UConn both times, advancing to the title game, losing to Texas A&M in 2011 and Baylor last season.
Sunday's marquee semifinal will also mark the fourth meeting between the two teams this season. Notre Dame has won all three meetings this year and seven of the previous eight between the two programs.
DOUBLE THE FUN
Louisville is the 10th school to have both its men's and women's teams reach the Final Four in the same season. ESPN Stats & Information takes a look at the nine other times it has occurred:
| School | Women | Men |
| --- | --- | --- |
| '11 UConn | Lost in semis | Won title |
| '09 UConn | Won title | Lost in semis |
| '06 LSU | Lost in semis | Lost in semis |
| '05 Mich. St. | Lost in final | Lost in semis |
| '04 UConn | Won title | Won title |
| '03 Texas | Lost in semis | Lost in semis |
| '02 Okla. | Lost in final | Lost in semis |
| '99 Duke | Lost in final | Lost in final |
| '83 Georgia | Lost in semis | Lost in semis |
But here's the thing about this game: The Huskies are a very different team than they were a month ago. As recently as six weeks ago, Connecticut freshman forward Breanna Stewart was a non-factor. In a Feb. 18 home loss to Baylor, Stewart went scoreless in seven minutes of playing time. But she has come alive in this NCAA tournament, scoring 21 points in UConn's regional final victory over Kentucky. Stewart was also named the most outstanding player of the Bridgeport Regional. If the 6-foot-4 forward can continue her hot streak, she presents a matchup problem for Notre Dame.
Of course, it's not as if Notre Dame doesn't create matchup problems of its own. Most interesting to watch will be how Notre Dame star point guard Skylar Diggins, a senior, plays against the UConn defense, which looks as tough as it ever has. This year's Final Four will be the last chance for Diggins to win the national title that has so far eluded her.
The night's other game features two programs with only one Final Four appearance between them. California is making its first trip to the Final Four in program history, while Louisville went to its first (and only other) in 2009. A month ago, it would have been hard to believe that one of these two teams would be playing for the national title, but here we are. Louisville took the most difficult route to New Orleans, first toppling Baylor, then defeating No. 2 Tennessee in the regional final.
The Cardinals are led by guard Shoni Schimmel, who grew up on the Confederated Tribes of the Umatilla Indian Reservation in eastern Oregon. Schimmel's game alone is worth the price of admission, as she dropped 22 points on Baylor and 24 on Tennessee. She has a flair to her game, a recklessness, that no other player in the Final Four possesses.
When you look at the teams going to New Orleans, two look very familiar, while two make you do a double take. But there's plenty to see on both sides.
Columnist, espnW.com
Joined espnW in Jan. 2012
Spent three seasons covering the 76ers for the Philadelphia Inquirer
Played women's basketball at University of Colorado from 1999-2004
EIGHT IS GREAT FOR UCONN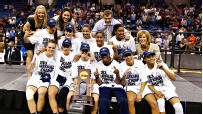 Connecticut routed Louisville 93-60 to win its eighth national title
Tourney home » Bracket » Challenge » Video »
NATIONAL CHAMPIONSHIP
VIDEO
BLOGS
MORE ON TOURNEY
MORE WOMEN'S BASKETBALL HEADLINES
MOST SENT STORIES ON ESPN.COM