Geno Auriemma blasts Mark Cuban
Updated:
April 3, 2013, 9:58 PM ET
ESPN.com news services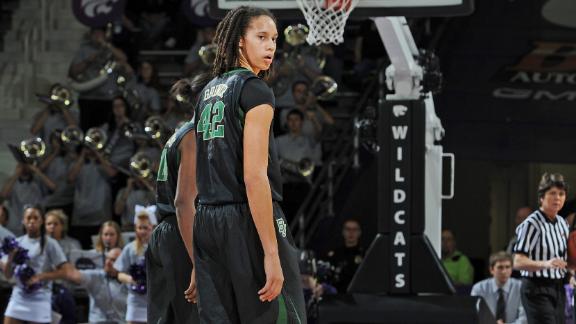 Sport Science: Brittney Griner
Sport Science: Brittney Griner
Connecticut coach Geno Auriemma doesn't think much of Mark Cuban's notion of drafting Brittney Griner into the NBA.
Cuban, the owner of the Dallas Mavericks, said Tuesday night that he would consider drafting Griner, the 6-foot-8 senior standout for Baylor whose career ended over the weekend when the Lady Bears lost in the NCAA tournament.
Impressive Resume

Brittney Griner finished her spectatcular career second all-time in scoring, and her 748 blocks are the most in men's or women's hoops. And by the way, her 18 dunks were three more than all other women combined.
Most Career Points, Women's NCAA Division I History

Jackie Stiles
3,393
Brittney Griner
3,283
Patricia Hoskins
3,122
Lorri Bauman
3,115
Elena Delle Donne
3,039
Source: ESPN Stats and Information
Cuban told reporters that if Griner is the best player available, "I will take her."
"Right now, I'd lean toward yes, just to see if she can do it," he said. "You never know unless you give somebody a chance."
Griner responded with a tweet: "I would hold my own! Lets do it"
Auriemma said Wednesday that Cuban is a financial genius, but "his genius would take a huge hit if he drafted Brittney Griner."
"I think it would be a sham," he said. "The fact that a woman could actually play right now in the NBA and compete successfully against the level of play that they have is absolutely ludicrous."
"We evaluate every draft-eligible player on the planet," Cuban said in an email to USA Today responding to Auriemma's criticism. "The chance of any college graduate selected at the end of the draft making a roster is very, very small. We wouldn't be doing our job if we didn't consider everyone.
"As I told the media yesterday, she would have to excel in workouts to get drafted. I have no problem giving her that opportunity. I hope she gives it a shot.
"Nothing harms an organization or company more than a closed mind."
Information from The Associated Press was used in this report.
MORE WOMEN'S BASKETBALL HEADLINES
MORE FROM ESPN DALLAS

Check out ESPN Dallas, the place for your local Dallas sports coverage.
MOST SENT STORIES ON ESPN.COM